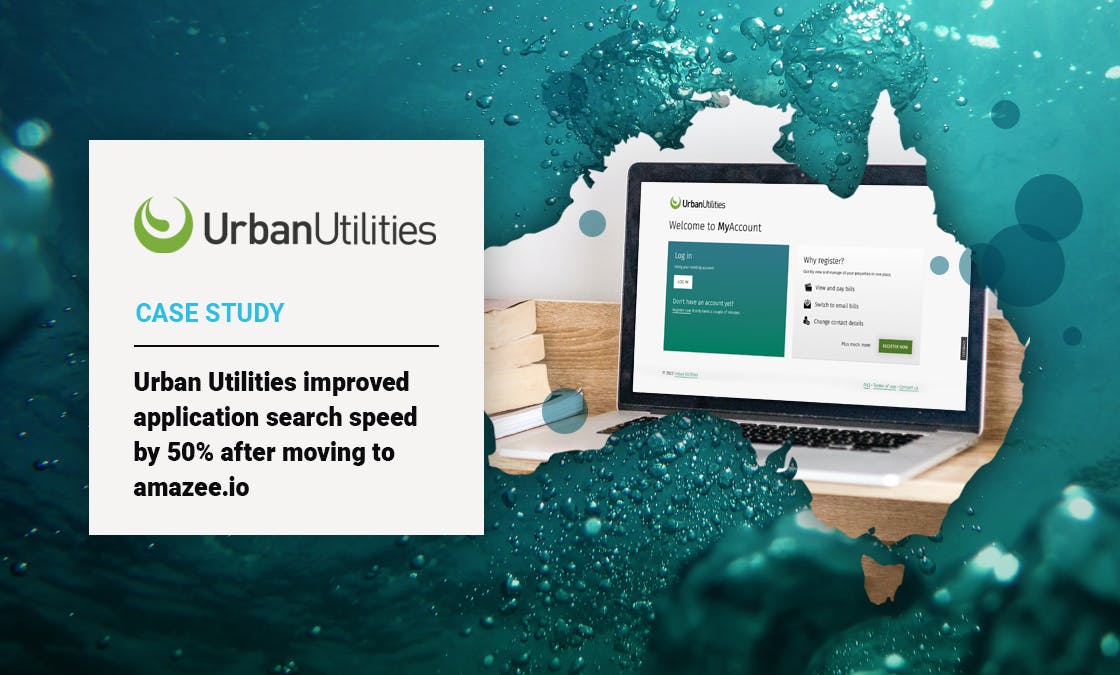 Urban Utilities is one of the largest water distributor-retailers in Australia, delivering water, recycled water, and sewerage services to more than 1.4 million people across five local government areas in South East Queensland.
The team at Urban Utilities wanted to build an account portal ("MyAccount") that customers could visit to manage account activities, such as viewing, downloading, and paying their invoices. The portal would also allow them to change billing preferences and download the last five years of their transaction history. Originally, MyAccount 1.0 was built and hosted by another service provider, but the team soon found that this solution lacked what they needed.
"It had very few capabilities," said Kulwinder Singh, Manager of Digital Enablement at Urban Utilities, "and I would say it was very difficult for our customers as well. For example, the MyAccount 1.0 registration process was very complicated. It had so many steps that when a customer tried to register, they got bored. They would say, 'It's a very long process. It has so many validations, I don't want to register.' The look and feel was also not up to the mark. And we thought, 'Okay, what can we give our customer so we can streamline the registration process?' This led us to MyAccount 2.0."
It also led the Urban Utilities team to amazee.io.
Kulwinder said that Urban Utilities was looking for an infrastructure hosting partner for the new and improved account portal site. "We had a very good impression from amazee.io, especially our technical account manager. He is amazing at handling everything at the infrastructure level, so it is also peace of mind. With amazee.io, there is a single, trusted partner who can handle all the hosting and issues that may come into it."
"Since the responsibility is on the infrastructure team for the infrastructure maintenance, this is one less part on our end. We actually don't need to worry about any new software installation on the infrastructure. amazee.io is handling it, so we can concentrate on the application level and focus to deliver the best customer experience to our end consumers." — Kulwinder Singh, Manager of Digital Enablement, Urban Utilities
Before, customers confused by the account portal would often call Urban Utilities' contact center to ask about billing topics, which increased overall call times. When the new MyAccount 2.0 portal was launched with amazee.io, call times at the contact center were reduced and customer sign-ups to the portal significantly increased.
Kulwinder also explained that working with amazee.io gave the Urban Utilities team confidence to build more websites. As a result of the work on MyAccount 2.0, they have already migrated another website to amazee.io, which has helped them reduce costs and improve developer productivity.
"When we moved our second web application to amazee.io, I wasn't sure it would impact the application performance," Kulwinder added, "but when we moved, we saw a dramatic difference. Since moving to amazee.io, searching within the application is 50% faster."
"We are extremely satisfied by teaming up with the amazee.io team," Kulwinder said. "The teams collaborate very openly and there is full transparency about what is happening - the level of expertise really surpassed our initial expectations. I also would like to add that amazee.io has a very responsive and proactive 24/7 support system. If we have any issues, a developer can hop on and someone from amazee.io will answer straight away. Basically, we were looking for flexibility and amazee.io gave us everything."
Are you ready to work with a WebOps partner that can take your websites and web applications to the next level? Then schedule a free technical demo with us today 🗓️.