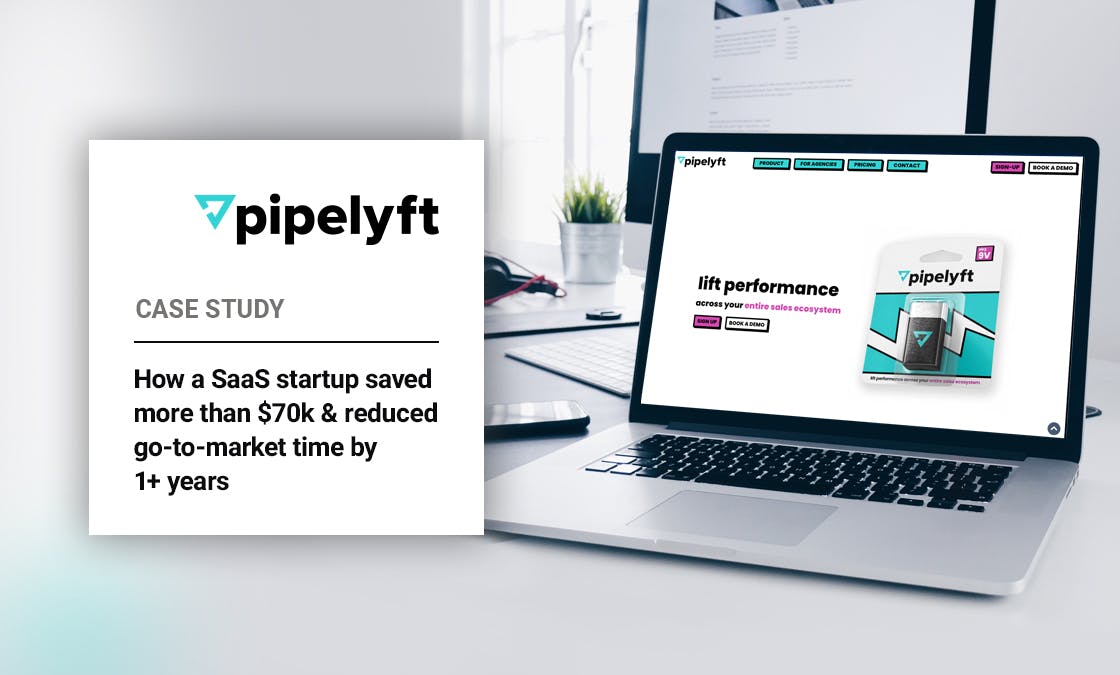 When it comes to building the SaaS product of your dreams (and your customers' dreams) it's important to get it right and prepare the best product possible - but not delay the timeline. It's a delicate dance between perfection and timing, and especially for a seed startup with limited financial resources, speed is more important than ever before. In the case of Pipelyft, created by TPL Digital, they had an idea for a SaaS platform built in Drupal - but they were missing some major capabilities in their ideal interface. 
Pipelyft, an independent software vendor, has excellent Drupal frontend developers. However, when they built their app, their CMS left them a bit limited. Drupal isn't always the most flexible way to build apps. It made sense for Pipelyft to do so, but it left them with some gaps in their plan to deliver the product in an ideal way. 
Their SaaS product ideally began on a form page. When a new client filled out a form, they would be creating a brand new project automatically, which manifests as a new application within our clusters. Drupal is not built for this type of project inherently. But in today's day and age, this is simply what people expect from SaaS projects - quick and easy interfaces that are almost effortless to use. 
Once a customer filled out the form and clicked "Submit," Pipelyft wanted to make sure they could create separate tenants for everyone's data. This was to ensure data sovereignty, no matter where the customer was located. They needed a process that would deploy data in separate environments and remain 100% secure. Pipelyft didn't want everyone's data to reside in one massive database for several reasons - individual security and data sovereignty being the most important. 
Pipelyft knew they could not accomplish all of this with Drupal alone, so they started looking for alternative solutions. They reached out to a large, well-known U.S.-based hosting company, but they weren't able to accommodate the request due to cost restrictions and concerns about functionality. 
When Pipelyft reached out to amazee.io, they explained exactly what was needed: Tenanting their client data and an easy form-based UI in an app created on Drupal: Not as easy as it sounds. They needed their SaaS platform to be location-agnostic, API-first, data sovereignty-focused, and technology-agnostic, in case they wanted to re-platform one day in something other than Drupal. 
Pipelyft wanted to solve a very niche use case that was specific to them and not very common. For this reason, they struggled to find out-of-the-box solutions that would help them meet their needs quickly and within budget. They needed something inherently customizable, where they wouldn't be constrained. 
Sometimes, a solution that is highly specific needs to be created in-house. Pipelyft considered this at first, but they would have had to hire more team members since they didn't have any DevOps expertise on their team. Building out a solution internally would have cost at least $70k and taken more than a year to complete, so this wasn't an option for them.
Pypelift needed a fully automated solution for deployment, provisioning, and fulfillment, or they would have to pay to create a solution themselves. As a small startup, this was time and money that Pipelyft simply couldn't spare. The DIY- method might work well for some, but it wasn't an option for Pipelyft at this point in time since they wanted to get to market as quickly as possible with the product they really wanted. 
A solution for fully automated deployment, provisioning, and fulfillment
When Pipelyft reached out to amazee.io, we were able to help them achieve their desired outcomes quickly, flexibly, and with data sovereignty in mind. They were able to deploy the tenants to any location in the world leveraging the available AWS cloud cluster of amazee.io, which helps companies bound by data privacy This way, their clients can choose where to deploy in a way that best fits their own needs. 
With amazee.io's solution, customers can select their location on a drop-down menu on the page, making the process quick and easy for users. When customers submit their form, a tenant is created automatically in the location specified - anywhere in the world. 
"What attracted us to amazee.io's solution, right away, was the ability to have containerized infrastructure. It was imperative to us that we work out a solution that ensured data was secure, separated, containerized, and that companies could choose their own server location," said Curtis Cox, CEO of Pipelft. 
"We were searching around for solutions, and we needed something that we could implement really quickly. There were only about 1-2 platforms that could even do what we wanted. When we found amazee.io, we were impressed that we could have something more custom so fast." 
When first starting out with amazee.io, Curtis thought the whole process would be incredibly complex. But he was pleasantly surprised to understand just how easy it was to use amazee.io's platform for fully automated deployment, provisioning, and fulfillment. 
"We barely even had to use our TAMs provided by amazee.io, that's how easy it was," Curtis said. "We had no DevOps knowledge at all, so amazee.io served as that for us." 
After Pipelyft implemented amazee.io's solution, they noticed a few things right away: 
As expected, they are faster in the market than they ever could have been creating the tenant provisioning and fulfillment on their own, since amazee.io's solution is fully automated. They needed resources for their tenant deployment, whether it was internal or external, and with amazee.io's platform handling those capabilities automatically, they didn't need to worry about it. 
Because they didn't have the initial roadblock of needing to build a solution from the ground up,  the team at Pipelyft has been able to focus much more completely on creating the perfect product. Without the worries of infrastructure, they've been able to improve the SaaS product constantly and consistently. 
A platform that paved the way for SaaS success
One of the biggest things Curtis appreciated about working with amazee.io was the flexible billing. 
"From the beginning, we needed to be able to predict our costs accurately. We really needed a partner who was willing to work with us and fix our costs to fit a SaaS model," Curtis said.
Using Lagoon made sense from a financial and time-saving perspective for Pipelyft.
Curtis estimates that with amazee.io's platform, Pipelyft was able to accelerate their go-to-market time by more than one year.
The development time saved by using amazee.io's services allowed Pipelyft to focus more on product development, and they were able to go to market with a superior minimum viable product than previously planned. This way, they worried much less about distribution.
According to Curtis, amazee.io's support and service team served as a "DevOps for hire" for Pipelyft, filling in the expertise missing on their own team. amazee.io provided guidance and support, working with the Pipelfyt team through various scenarios to create the best possible solution in the shortest time frame. 
Pipelyft estimates that they saved more than $70,000 because they didn't have to hire a DevOps team. The money saved by using the amazee.io team as their DevOps allows Pipelyft to relocate those funds into better sales efforts. 
"It's been amazing to have that level of support from everyone at amazee.io: The technical leaders, sales, and even the CEO," Curtis said. "The experience has been great. amazee.io bent over backwards to fit all the pieces together, and we couldn't have done it without that." 
With amazee.io, Pipelyft was able to invest all of its mental (and financial) resources into the actual product, making it as great as it can be. Their product came to market sooner, they saved money, and they were able to respect data privacy laws to the fullest extent. 
With the resources of Lagoon, they've been able to significantly accelerate their success roadmap as a startup. With amazee.io, they moved through the "build" phase incredibly quickly. And now, their focus is on the future.
If you're interested in learning how amazee.io's platform could help your team solve its challenges and achieve your goals, 🗓️ schedule a technical demo with us today.