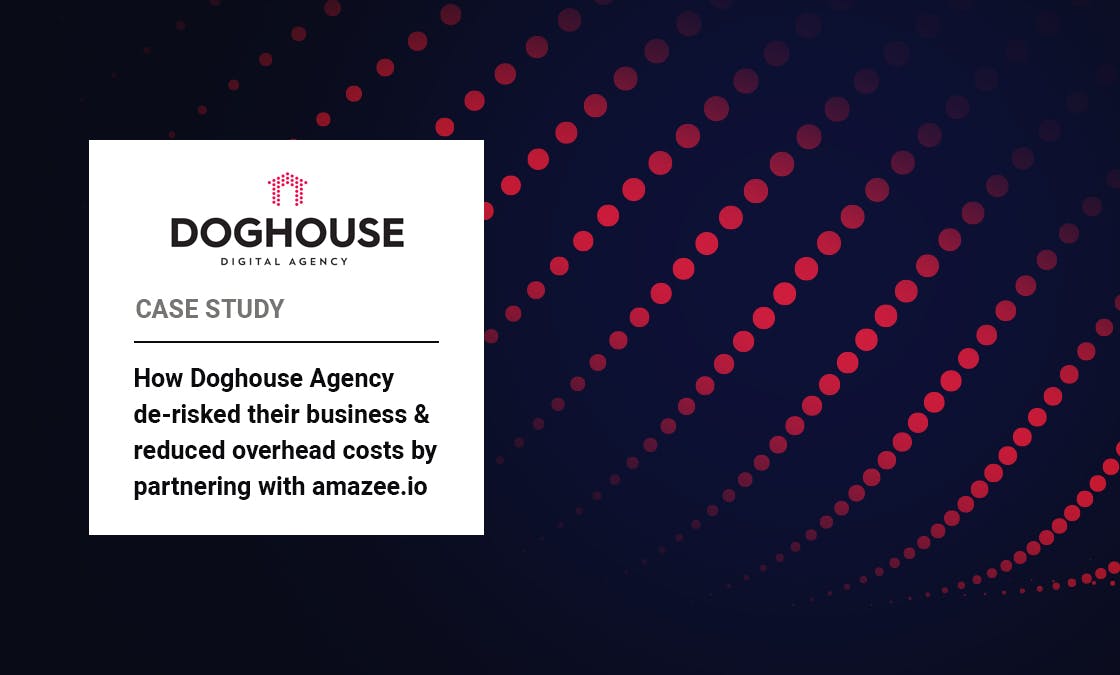 As a highly trusted and innovative Drupal and open source digital agency in Australia, Doghouse Agency builds digital experiences that are used by millions of people.
Doghouse Agency initially started with the goal to run, manage, secure, and monitor all clusters within their own infrastructure and teams. Soon they realized that this brought overhead costs and maintenance requirements as well as introduced risk to the business. In search of a reliable, global partner, Doghouse Agency identified amazee.io as a perfect match. They now partner with amazee.io to offer a reliable, highly available, fully scalable and elastic WebOps platform supported by a decentralized 24/7 team to support their growing customer base.
Now, with elastic scaling, we can host large government departments that collectively account for hundreds of millions of hits per month. And not one site has failed since we've actually switched to amazee.io." — Simon Shackleton, Director, Doghouse Agency
While Doghouse Agency has previously worked with Kubernetes, they now rely on amazee.io experts for onboarding, support and maintenance, providing an end-to-end solution to their users. amazee.io's technical expertise and process-driven approach has also been useful in assisting with business development activities and streamlining operations as Doghouse moves away from owned hardware. Previously, Doghouse had two full-time DevOps managers but with improved efficiencies, only a single manager is currently required.
amazee.io's technical WebOps and Kubernetes expert team seamlessly integrates with Doghouse Agency's support team to help service and manage enterprise clients.
"Our infrastructure configurations, availability, monitoring, support, and all traditional headaches of modern web operations are solved," Simon explained. "It's one less thing that our support teams have traditionally had to work on; they just don't have to worry about it."
By maintaining an in-depth understanding of what's on the Doghouse cluster (running on AWS Asia Pacific - Sydney) and acting as an extension of the Doghouse Agency team, amazee.io is able to simplify the complexities of Kubernetes. amazee.io also simplifies security, with a GDPR compliant platform and a fully managed CDN + WAF offering. Simon describes the amazee.io support team as "a reliable, trusted, distributed team that is always available. There's probably a number of people at amazee.io that, off the top of their head, could tell me what is running on our cluster, where I'd have to think about it. The team takes actual ownership over what we're serving in that cluster."
Need a WebOps partner that works as an extension of your team? Schedule a free technical demo with us today!