amazee.io partnered with Previon + to modernize the internal digital communication channel of a Swiss financial services provider.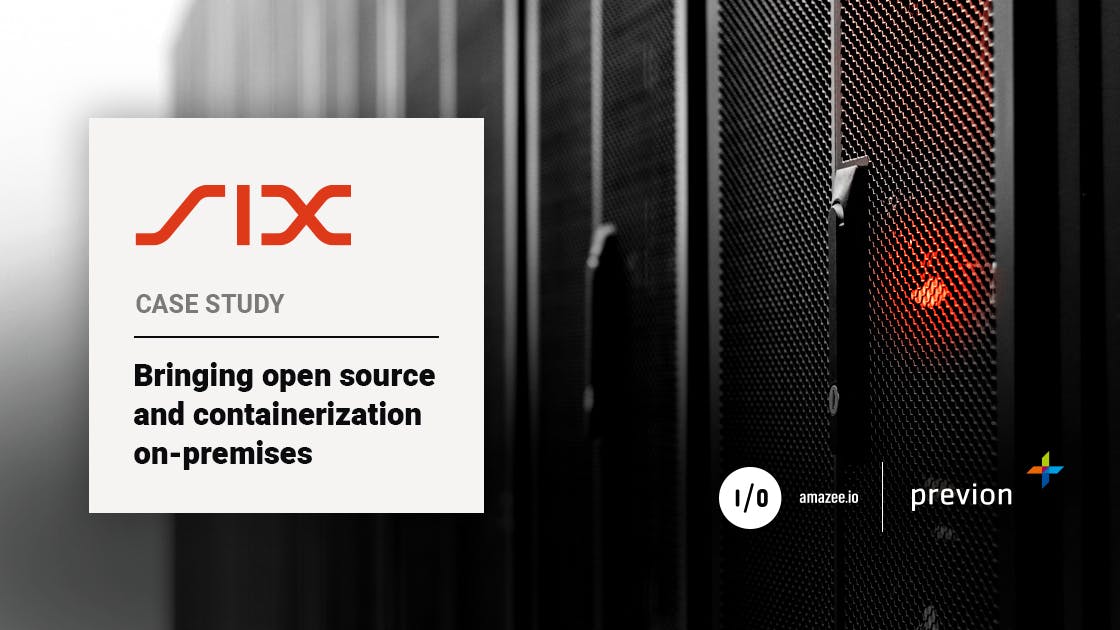 amazee.io and leading Swiss digital agency, Previon + worked together to build a custom on-premises hosting solution for their client, SIX, the operator of the infrastructure for the Swiss financial center.
Challenge: Create an open source container-based on-premises hosting solution that supports deployments from the cloud while maintaining the highest levels of security.
In an effort to modernize their intranet, which stores the vast amount of non-public information required to operate their business, SIX partnered with Previon + to move to agile DevOps, leverage better technologies, and redesign the employee digital experience. With Previon +'s expertise in digital platforms, they brought amazee.io on board to deliver a secure on-premise hosting solution in SIX's datacenter that would support the open source technology being implemented for the new intranet. Moving their systems from Sharepoint to Drupal required a high level of consulting services which included change management, training, and high coordination with Previon + and SIX's Corporate Security, Network, Database, and Intranet teams.
Solution: Production, staging, and development environments are containerized and fully congruent, each running the exact same resources and services. Development leverages automatic deployment processes in amazee.io's cloud hosting platform, Lagoon. Deployments from development are facilitated by custom scripting, secured via automated scans, and released into SIX's internally managed OpenShift cluster.
Because security is of utmost priority within highly regulated industries such as finance and SIX IT governance required the project to be hosted within their on-premises servers, amazee.io was tasked with not only enabling rapid deployments but also ensuring the highest levels of data protection. Our custom solution leverages Lagoon to provide a cloud-based server for ongoing development, from which staging and production releases are deployed directly into SIX's datacenter after passing an automated security scan.
Results:
• Infrastructure cost reduction of 30%
• Development teams can make releases over 20 times more frequently than before
• SIX can leverage the latest technologies while maintaining security
This solution enables Previon + to ship weekly releases while meeting strict requirements of stability and security. We were able to facilitate additional requirements including personalized content, single sign-on, and advanced search with Solr which could be tested locally because of the containerization, and ultimately launched the platform far ahead of SIX's expectations — rather than requiring years, we delivered this complex solution in only two months.